Nachdem ich grad so im Schlafen Thema bin und wem die Bettwäsche mit VW Bus oder VW Käfer Motiven nicht reicht – der mach sich doch einfach ein VW Bulli Bett.
Sieht doch super aus – und ist gar nicht mal so schwer.
Eine Anleitung gibts bei Instructables.com für diesen wundervollen Bulli
Now I'm writing a lot of sleeping – so if the bed-linen is not enough, why don't build a VW Campervam bed. Looks really great and it's easy to build.
A DIY instruction you will find at Instructables.com for this wonderfull VW campervan.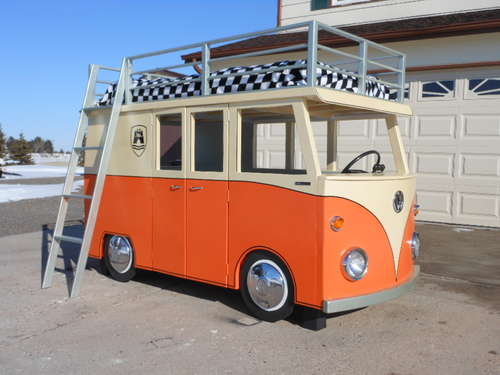 Hier gibts noch weitere Inspirationen für selbstgemachte VW Bulli Betten und Spielautos.
Here some more inspiration for a DIY VW Campervan and a Playhouse.
Quelle und Copyright der einzelnen BIlder: Pinterest, Highcairtheology, Etsy kids creation beds, Shelterness, WC Projects, Instructables.com & Fist Inc. Motorclub.
Weiterer Bericht zu VW Bulli Bett findest du auch hier.